Sharn Wordley impresses in final World Cup Qualifier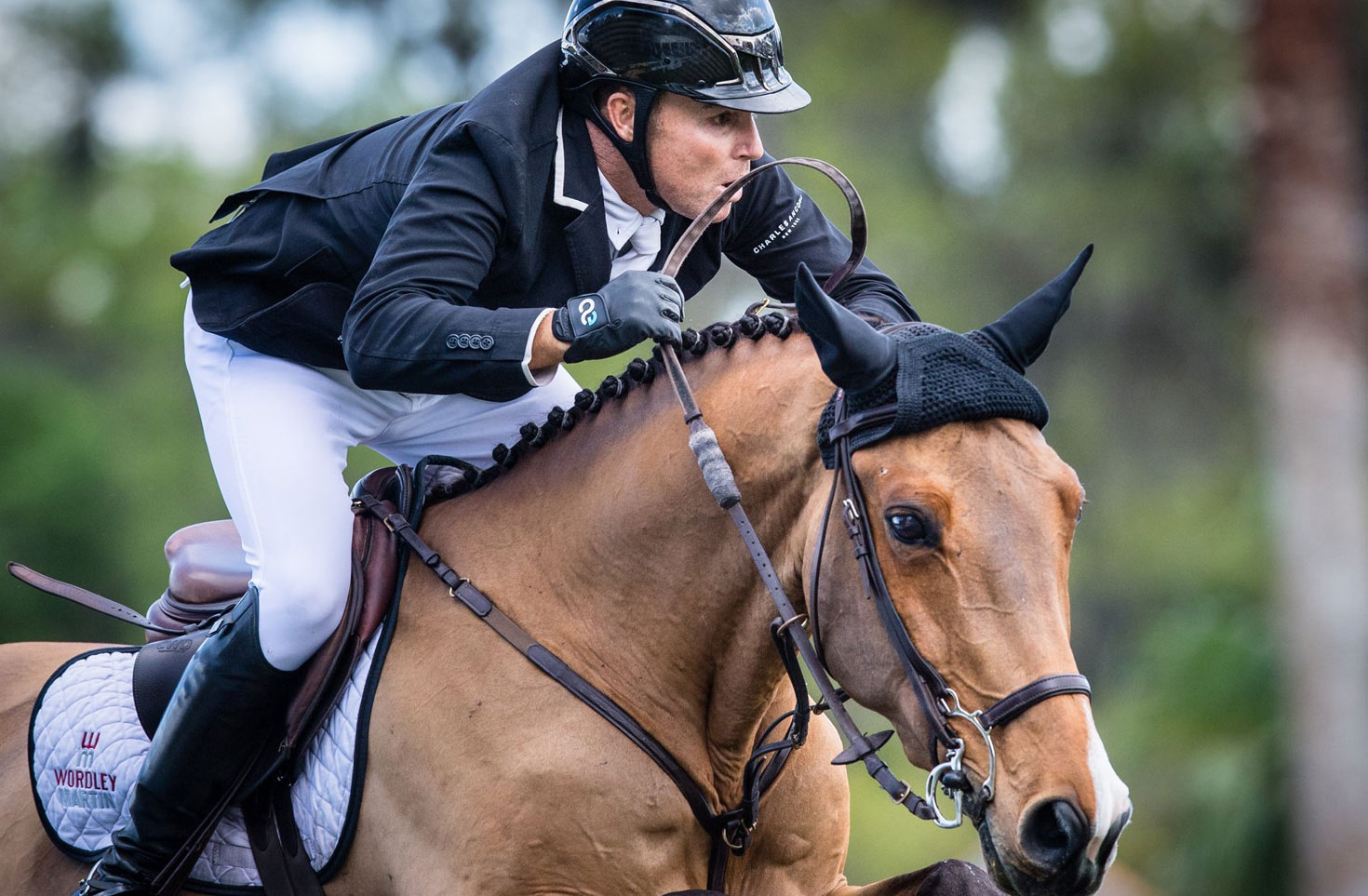 FEI
Source: FEI
Seventeen-year-old Brian Moggre of the USA took his first Grand Prix, beating out some of the world's top jumpers in a six-person jump off.
Sunday's Florida event was Leg 14 of 14 for the North American League, the final opportunity for riders to win qualifying points to compete in the Longines FEI Jumping World Cup™ Finals in Gothenburg early next month.
Second place at Ocala went to Andre Thieme of Germany. The bronze medal was awarded to Sharn Wordley of New Zealand, the only other double clear of the competition.
German designer Olaf Peterson Jr. set a wickedly difficult track on the Live Oak turf course, intended to make competitors prove themselves and truly earn those coveted World Cup points.
The technical course was laid out more like an indoor one, with tight lines and no spare seconds to dally in the corners with an 88-second time limit.
Whilst more than a dozen riders ran afoul of the clock in Round 1, another seven were eliminated or elected to retire, many running into trouble at a spooky 1.60-metre wall, painted in shades of grey and black and clearly presenting depth perception problems for the horses.
Six riders, however, turned in beautiful clear rounds, showing it could be done, and Round 2 gave the appreciative fans in the sun dappled marquees a thrilling jump off.
Up first was Hyde Moffatt of Canada, who was the only rider in the jump off worried about securing points for Gothenburg, as the top two Canadian point holders were guaranteed a berth. Moffatt saw the first rail hit the ground on the double combination and finished on 4 faults in 41.81 seconds.
American rider Noel Fauntleroy took down a brick in that tricky wall, which remained for the final round, as well as a rail on an oxer, for 8 points in her 44.91-second time.
Young Moggre was next in the arena, aboard MTM Vivre le Reve. Coached by teammate Tracy Fenney, Moggre knew he had to go clear to have a chance at the win, with some stellar riders coming after him.
Pushing the speed, he gave the Florida crowd a gorgeous clear ride, even with a near bobble at a huge wide oxer, and finished in 41.29 seconds on zero faults.
With Moggre anxiously waiting on the sidelines, New Zealand's Wordley was up next. He managed to go clear too, but at 43.96 seconds, he wasn't quite fast enough to catch Moggre and moved into second place for the moment.
The penultimate rider, Ahieme, who won the Live Oak event just two years ago, had the door open for him just a crack. His experience paid off with a double clear, and at 41.56 seconds, his time was enough to bump Wordley to the third podium spot and finish just behind Moggre.
Last up, Harrie Smolders of the Netherlands was a true danger to topple Moggre's lead, as the Longines number-four ranked rider in the world, formerly number one. Smolders gave it his best, but a brick down in the infamous wall meant 4 penalty points to go with his 41.49-second finish.
Moggre was "ecstatic" with his victory, singing the praises of his special partnership with his 10-year-old Westphalian gelding.
Regarding Vivre le Reve's valiant effort at the iffy oxer, the young American said, "I didn't know what the next half-second would look like, if I was going to be in the dirt or if he was going to save me. And he was amazing! He left all the jumps up, and that's why that horse is so special to me."
Although Moggre won't have enough points to advance to Gothenburg this year, even with his spectacular win this weekend, his future certainly looks sensational, and jumpers on the circuit will have a new threat to contend with.
Behind Moggre, Thieme, and Wordley in the 1-2-3 positions, Smolders finished fourth, followed by Moffatt and Fauntleroy in fifth and sixth, respectively. The next six spots fell to riders who jumped clear but finished with 1 time penalty: Nicole Walker of Canada, Eugenio Garza Perez of Mexico, Americans Kelly Cruciotti and Sloane Coles, Beat Mändli of Switzerland, and Ainsley Vince of Canada.
Peter Wylde, an American Team gold medalist from the Athens Olympic Games, was the fastest of the four-faulters. Home favourite Chloe Reid, niece of US Driving champion Chester Weber, whose family host the annual Live Oak event, finished in 16th place with a very respectable 4 faults.
View Comments