New Zealand Team announced for FEI Jumping Nations Cup™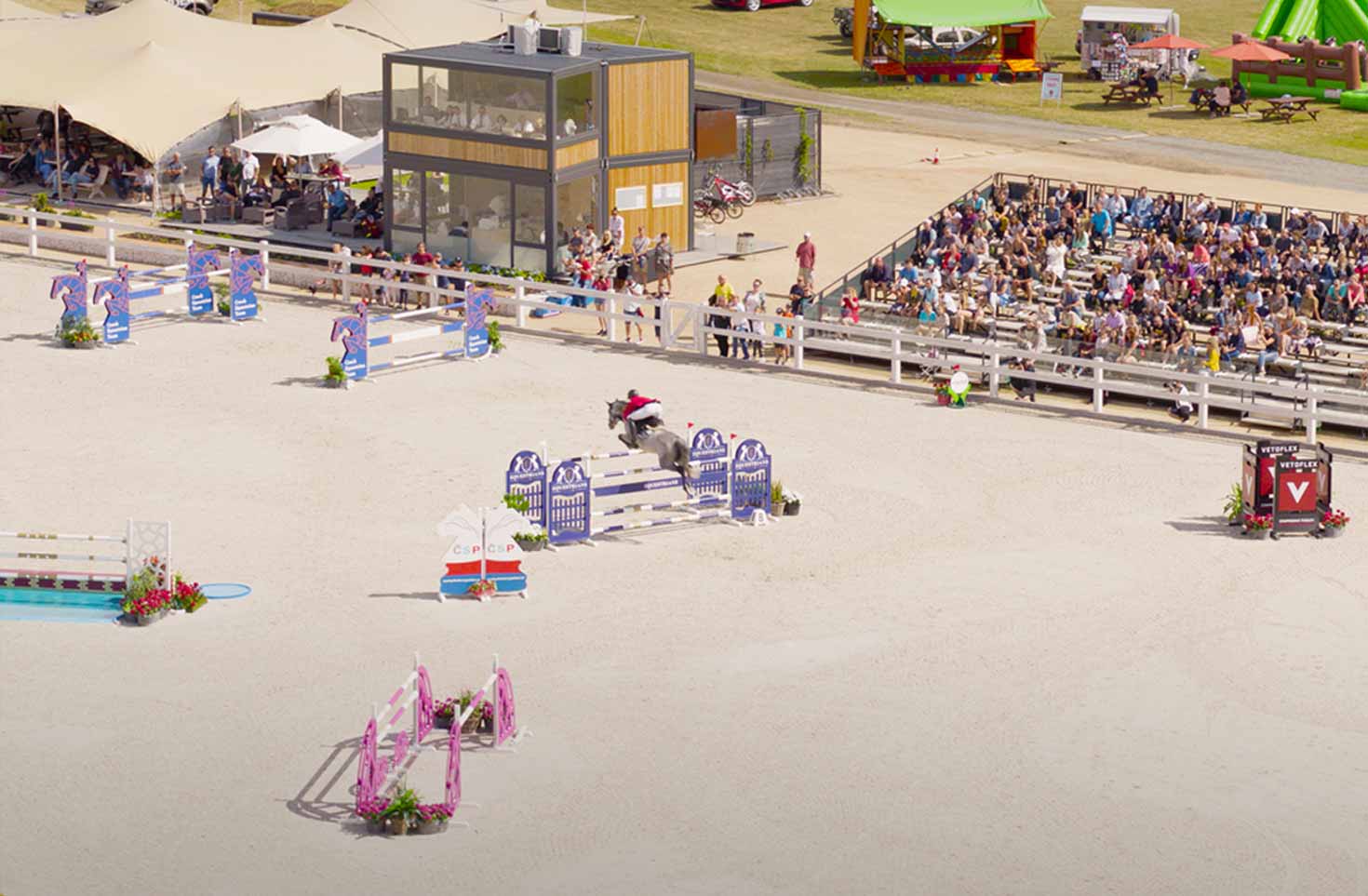 Photo archiv TMM
The cream of New Zealand's jumping talent was on show today during the first day's competition at the FEI Jumping Nations Cup™ event held in Prague. With five kiwi riders battling it out for just four positions in the New Zealand Team to compete against 19 other countries in tomorrow's FEI Jumping Nations Cup™, today was their last chance to impress for selection.
At the end of the day's competition New Zealand Team Chef d'equipe, Helena Stormanns had the task of naming the four combinations which had been selected to represent the xcountry tomorrow in the FEI Jumping Nations Cup™.
The four combinations making up the team will be:
Tom Tarver and Popeye
Richard Gardner and Calisto 5
Bruce Goodin and Backatorps Danny V
Daniel Meech and Cinca 3
Unfortunately, on this occasion, Lily Tootill and Ulysses NZPH will have to miss out.
Read below to see how the day panned out for our riders.
The setting in the Czech Republic capital was fitting such a prestigious event. New Zealanders competed in three different classes today, held in warm sunny conditions, however, sadly in front of near empty stands.
After a competitive Young Horse class to open proceedings, four Kiwis hit the track in the BMW Trophy class, conducted over just a single round with a height of 1.40m.
We didn't have to wait long for the action to start. Fourth out was Hastings raised dual Olympian Daniel Meech in combination with his mare Cinca 3. They covered the course at a leisurely pace, described by the commentator as "a steady look around", finishing in 99.77 seconds, considerably over the time allowed of 76 seconds. With no jumping penalties, their time incurred 6 time penalties and they ended up finishing in 61st place out of 92 entries. Meech also appeared late in the start list with Faith 13. This was a much more purposeful ride, going clear in just 72.49 seconds to finish a very credible 15th in a high-class field.
Richard Gardner in combination with his Chacco-Blue gelding, Cromwell 32, clipped the front rail of the oxa at the ninth fence, to record just 4 penalties in a time of 69.60, placing them in 48th position.
Tom Tarver and his lovely grey gelding Popeye, fresh from some very good performances last week in Germany, kept their form going with a clear round in just 75.06 seconds. This placed them in 13th position immediately after their round, however, with 40 more combinations going after them, they ended up placed in 22nd.
The last of the Kiwis in this class was Bruce Goodin, who could be in the mix to compete at his fifth Olympics Games if he was to get the nod to go to Tokyo next year. In combination with the 9-year-old gelding Collin M, Goodin went clear, but their time of 78.06 seconds incurred a single time fault, placing them 30th overall.
With regards to these riders and their aspirations to make the New Zealand FEI Jumping Nations Cup™ Team, it would be fair to say that while nobody performed outstandingly to assure themselves of a place, nobody did their chances any harm from turning-in a poor performance
Selected results from this class were as follows:
| | | |
| --- | --- | --- |
| PLACE | RIDER | HORSE |
| 1st | Pius Schwizer (SUI) | Grand Cooper |
| 2nd | Ezequiel Andres Ferro Menendez (ARG) | Cornados Little Queen |
| 3rd | Bronislav Chudyba (SVK) | Liston Achterhoek |
| 15th | Daniel Meech (NZL) | Faith 13 |
| 22nd | Tom Tarver (NZL) | Popeye |
| 30th | Bruce Goodin (NZL) | Collin M |
| 48th | Richard Gardner (NZL) | Cromwell 32 |
| 61st | Daniel Meech (NZL) | Cinca 3 |
The next class was another opportunity for the New Zealanders to press for selection in the FEI Jumping Nations Cup™ Team. The V Team Prague sponsored event was held over a 1.45m course, and again, just a single round. The time allowed was also 76 seconds.
The first Kiwi in the order was Richard Gardner and Calisto 5, which was his mount in the Nations Cup win in Abu Dhabi back in February. This pair, with a real spring in their step, attacked the course, however took a rail to finish in 72.95 seconds, placing them about half way down the rankings after 27 combinations had gone.
Soon after, Bruce Goodin was back for his second ride of the day, this time on his number one horse, Backatorps Danny V, which we have not seen at FEI competition level since the Abu Dhabi victory. They took a single rail and with a time of 80.74 had two time penalties added.
We didn't have to wait long until Daniel Meech and the 12-year-old stallion Dominick, presented themselves into the arena. This combination in their first post-lockdown FEI outing were perhaps a little rusty. Finishing in 76.48 seconds, they incurred one time penalty and took 2 rails to finish with 9 faults.
The fifth New Zealand combination to represent today was Lily Tootill and her chestnut gelding Ulysses NZPH. With just one shot at pressing for team selection, the pressure was on, however, unlike some of the other aspirants, they had been back competing in both Belgium and Germany for over a month to prepare for this. They almost mastered the course, soaring high over all but one of the jumps, but it was that one that was costly, incurring 4 jumping faults in a good time of 75.71 seconds.
To sum up this class for the Kiwis, it is likely that none of the combinations exceeded expectations, however, there were no disasters either, with all four of them finishing mid field.
Selected results from this class were as follows:
| | | |
| --- | --- | --- |
| PLACE | RIDER | HORSE |
| 1st | Filippo Marco Bologno (ITA) | Diplomat |
| 2nd | Bertram Allen (IRL) | Pacino Amiro |
| 3rd | Uhr Bauman (SLO) | Larisal |
| 53rd | Richard Gardner (NZL) | Calisto 5 |
| 58th | Lily Tootill (NZL) | Ulysses NZPH |
| 61st | Bruce Goodin (NZL) | Backatorps Danny V |
| 78th | Daniel Meech (NZL) | Dominick |
The final class of the day was a 2-Phase 1.30m class, in which two New Zealanders were entered.
Richard Gardner combined with the mare Roulette 134, while Tom Tarver paired with the 10-year-old gelding Ngahiwi Para
Selected results from this class were as follows:
| | | |
| --- | --- | --- |
| PLACE | RIDER | HORSE |
| 1st | Martin Reznicek | Clintin |
| 2nd | Mohamed Talaat | Tabea 20 |
| 3rd | Pheline Ahlmann | Juan Pablo Garriz |
| 23rd | Richard Gardner (NZL) | Roulette 134 |
| 26th | Tom Tarver (NZL) | Ngawihi Para |
New Zealand Jumping wishes the team all the best for Friday's competition and looks forward to reporting the results as soon as possible after the event.
View Comments