Alex Loiselle and Bandito NZPH triumph at HOY on Day 1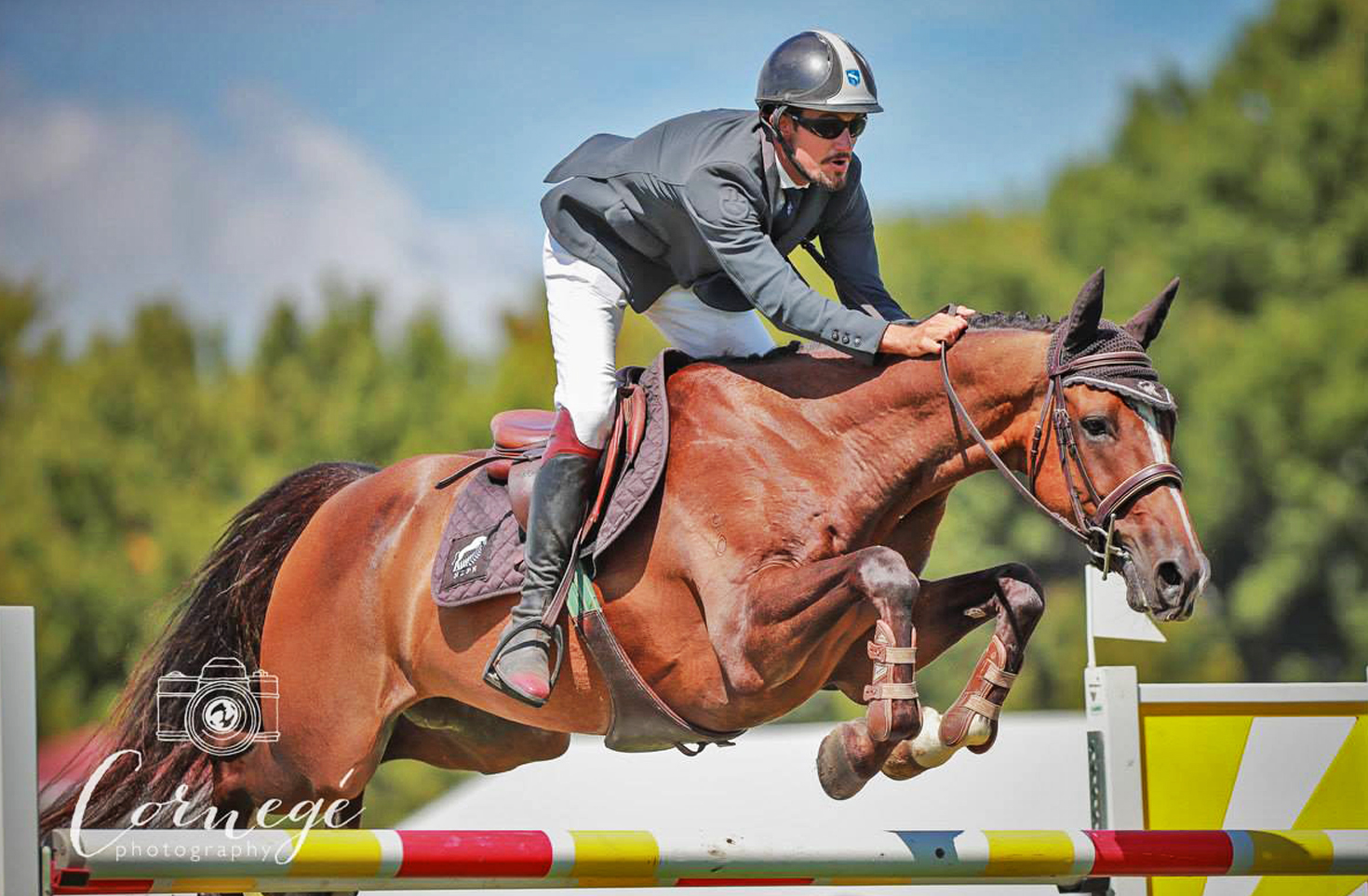 Cornege Photography
The Land Rover Horse of the Year (HOY) Championships opened in fine style in Hawkes Bay today. Held at the famous A&P Showgrounds, HOY encompasses a huge range of equine events for everyone to enjoy.
New Zealand Jumping will be looking at selected jumping events today and over each day of the competition through to Sunday when the programme culminates with the Horse of the Year Olympic Cup class.
Congratulations goes to all placegetters and especially Alex Loiselle and Bandito NZPH, who took out today's main class, the 1.40m horse event, sponsored by IRT.
PREMIER ARENA
CLASS 1: IRT Horse 1.40m
The major class held today was the IRT 1.40m class for horses. A total of 50 combinations were entered in near perfect jumping conditions. A tough course by German designer Werner Deeg was presented to the riders, with only seven combinations recording a clear first round, with the fastest of these by Laura Inkster and Oporaes Jackamoe in 75.69 seconds.
The reigning World Cup Series winning combination of Tegan Fitzsimon and Windermere Cappuccino, notified the judges that they would not take part in the jump-off, leaving six combinations to battle it out.
Jumping in the same order they went in the first round, Drew Carson and Winston V Driene were first out. Taking rails at the second and fifth, Carson decided that today was not going to be their day and with a tip of his helmet to the judges, duly withdrew from the jump-off.
Next was Julie Davey and Joligne De Carmel. They rode a very professional clear round, but with a time of 63.31, it looked like they had incurred a time penalty until the judges advised that the allowed time had been altered from 60 to 65 seconds. We had a leader, sitting on double clear. The pressure was now on the rest of the field.
After some great performances at Takapoto Estate Showjumping over the last couple of weeks, including first in the Silver Tour in Week 1 and second in the Silver Tour in Week 2, Emily Hayward and her 9-year-old gelding, Belischi HM would have approached the jump-off full of confidence. Sadly for them, they took the back rail of the oxer and with a time of 61.54, had to be content with second place for the time being. However with three still to come, it was going to be tough to hang on to that position.
Tegan Fitzsimon and Double J Monarch were next out, but a rail at the first of the double meant that Fitzsimon, who has swept all before her this season, could not win, although a fast time of 59.51 slotted them into second for now.
Second last out was Auckland rider Laura Inkster and Oporaus Jackamoe. Their chances of winning the class evaporated early with a rail at the second, however with the rest of the round clear and a fast time of 58.90 seconds, they slotted into second place with just one combination to go.
When Alex Loiselle and Bandito NZPH entered the arena, it was very clear what they had to do to win. A clear round would at least put them in second place. A clear round in less than 63.32 seconds, a very achievable time, would give them the win.
As the round went by, with the combination clearing everything before them, the crowd knew that this combination was in with a chance. They cleared the second last and then set off on the long run to the last. While all the combinations in the jump off had gone fast towards the last, this combination were different. They fairly galloped towards it, seemingly quicker than any combination before them. Only after clearing the last, and completing the course, was the reward for their bravery revealed. A clear round in just 57.29 meant that the class was theirs.
The top six placegetters in this class were:
| | | |
| --- | --- | --- |
| PLACE | RIDER | HORSE |
| 1st | Alex Loiselle | Bandito NZPH |
| 2nd | Julie Davey | Joligne De Carmel |
| 3rd | Laura Inkster | Oporaus Jackamoe |
| 4th | Tegan Fitzsimon | Double J Monarch |
| 5th | Emily Hayward | Belischi HM |
| 6th | Drew Carson | Winston V Driene |
HORSE DETAILS:
1 – Bandito NZPH: 8 year old Bay Gelding. Breeding: NZ Sporthorse by Consul De La Viez & Manon Du Souches. Bred by NZPH and owned by Alex Loiselle.
2 – Joligne De Carmel: 10 year old Bay Mare. Breeding: Belgian Warmblood by Vagabond De La Pomme & P.M. Van D Helle. Bred by Dirk Willaert and owned by Matilda Shotter Davies.
3 – Oporaus Jackamoe: 13 year old Chestnut Gelding. Breeding: Welsh Cob Partbred by Merry Derrakesh & Firedance and owned by Lianne Inkster.
4 – Double J Monarch: 10 year old Bay Mare. Breeding: NZ Sport Horse by Double J Repicharge & Double J Remember Me. Bred by Wendy & Robyn Jacobs and owned by Tinesha Carey.
5 – Belischi HM: 9 year old Dark Bay Gelding. Breeding: Australian Thoroughbred by Chateau Istana & Talk Band. Bred by Unknown and owned by Emily Hayward.
6 – Winston V Driene: 16 year old Brown Gelding. Breeding: Dutch WB by Ovidius & Odette Owned by Drew Cason
CANTERBURY EQUESTRIAN ARENA ONE
CLASS 3: Horse 1.30m
The top six placegetters in this class were:
| | | |
| --- | --- | --- |
| PLACE | RIDER | HORSE |
| 1st | Clarke Johnstone | Watermill Glenneagle |
| 2nd | Emma Gaze | Woodland Bug |
| 3rd | Elmo Jackson | Fairview Animation |
| 4th | Catherine Cameron | Kingslea Couture |
| 5th | Emma Gaze | Fire Bug |
| 6th | Robert Steele | Delta Blue |
CLASS 5: Horse 1.10m-1.20m
The top six placegetters in this class were:
| | | |
| --- | --- | --- |
| PLACE | RIDER | HORSE |
| 1st | Talia Allison | Mustang Shelby |
| 2nd | Paxton Conder | La Fonteyn |
| 3rd | Vicki Wilson | Daminos TWS |
| 4th | Jamie Howie | Hi Ho Said Rolly |
| 5th | Kate Hewlett | Redcliffs Chocolate Box |
| 6th | Dana Sutton | Down Wind |
FIBRE FRESH ARENA TWO
CLASS 6: Nga Tawa School Horse 1.20m
The top six placegetters in this class were:
| | | |
| --- | --- | --- |
| PLACE | RIDER | HORSE |
| 1st | Emma Gaze | Kowhai Bug |
| 2nd | Mathew Dickey | Caprio |
| 3rd | Geordie Bull | Mauve |
| 4th | Joanna Bullock | Weiti Dannevirke |
| 5th | Charlotte Amos | Kabo Marmite |
| 6th | Bailey Rutter | Henton Serenade |
CLASS 4: Aspiring Rider 1.25m
The top six placegetters in this class were:
| | | |
| --- | --- | --- |
| PLACE | RIDER | HORSE |
| 1st | Kate Beatty | Smartymarty |
| 2nd | Molly Buist Brown | Vali |
| 3rd | Nicholas O'Leary | Centiare |
| 4th | Jaimee Bird | Cancion HSH |
| 5th | Keean Cooper | Pythia |
| 6th | Jessica Collinson | Bunny Hop |
CLASS 8: Pony 1.10m
The top six placegetters in this class were:
| | | |
| --- | --- | --- |
| PLACE | RIDER | HORSE |
| 1st | Kiera Page | Redcliffs Colour Me In |
| 2nd | Anna Wilson | Feather Storm |
| 3rd | Amelia Munro | MF Spot On |
| 4th | Ella Wylie | Burma Milly |
| 5th | Hanna Lowe | Tallyho Maestro |
| 6th | Hanna Lowe | Code Spree |
WADE EQUINE COACHES ARENA THREE
CLASS 9A: Pony 90cm
The top six placegetters in this class were:
| | | |
| --- | --- | --- |
| PLACE | RIDER | HORSE |
| 1st | Penny Borthwick | Galaxy Gold Rush |
| 2nd | Emma Gillies | Benrose Eclipse |
| 3rd | Emily Ramsden | Olympias CF |
| 4th | Tara Gower | Co Koha |
| 5th | Katie Readings | Circus Girl |
| 6th | Tayla Munt | Painterman |
CLASS 9B: Pony 90cm
The top six placegetters in this class were:
| | | |
| --- | --- | --- |
| PLACE | RIDER | HORSE |
| 1st | Emerald Barlow | Causing Havoc |
| 2nd | Lilly Moore | TF Temperance Brennan |
| 3rd | Ella Hawkeswood | Kaycee Mackay |
| 4th | Laura Bolton | Pioneer High Jinx |
| 5th | Taylah Beal | Sitara |
| 6th | Emma Rose | Triple Star Full Noise |
CLASS 10: Horse 1.10m
The top six placegetters in this class were:
| | | |
| --- | --- | --- |
| PLACE | RIDER | HORSE |
| 1st | Tamara Marshall | Midway Manolito |
| 2nd | Kate Ramsey | Diamond In The Ruff |
| 3rd | Kiani Taylor | Cash Money |
| 4th | Georgia Milner | Icebreaker MP |
| 5th | Emma Gaze | Mark Of Heart |
| 6th | Kady Prujean | VPS Call Me cash |
Results sourced from Equestrian Entries
View Comments