2018/19 Season Wrap Up – FMG Young Rider Series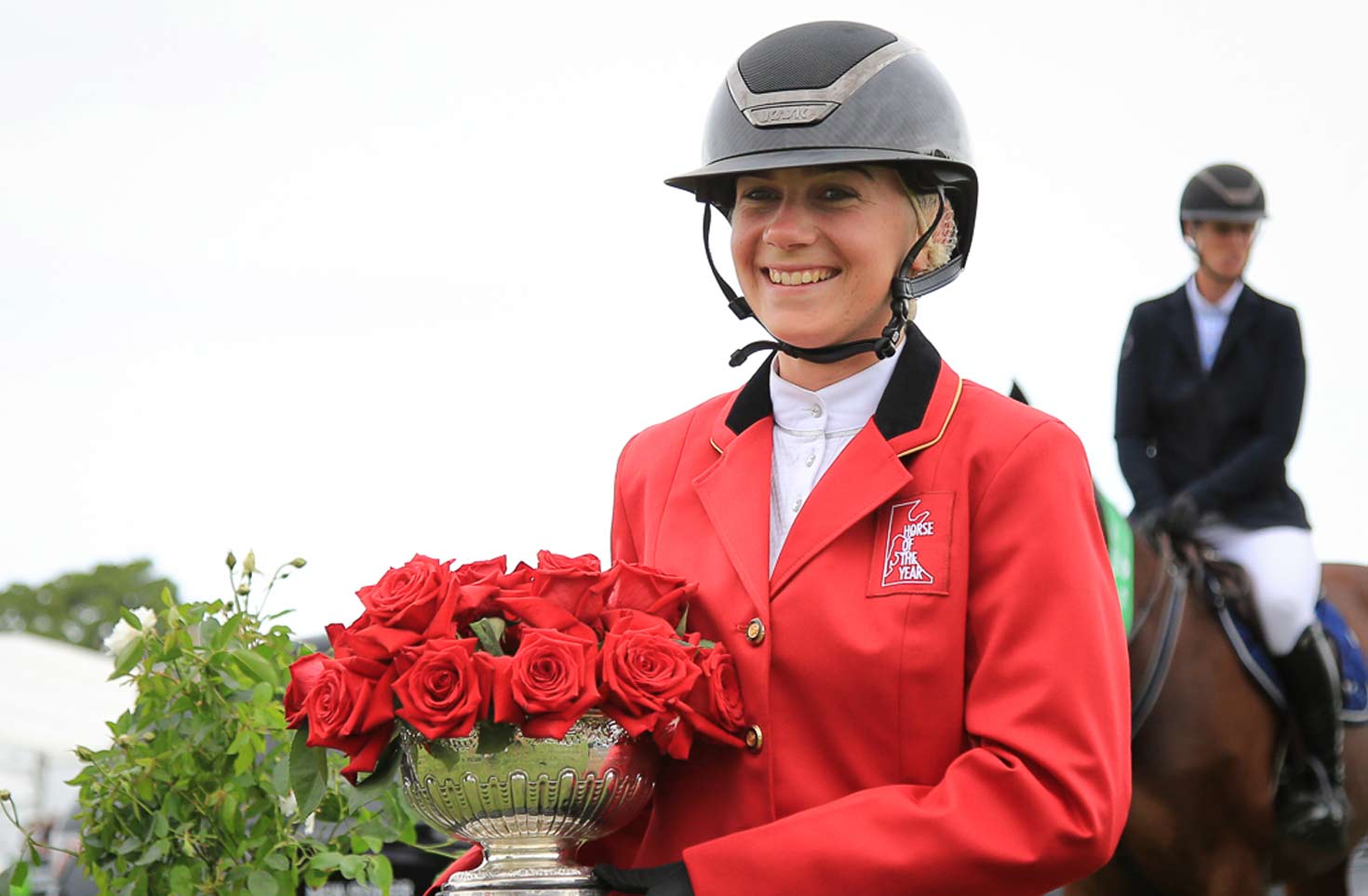 Cheleken Photography
In our previous four articles wrapping up the 2018/19 Jumping season, we have looked at the winners of the ESNZ Premier League, the Equissage Horse Grand Prix, the Country TV Pony Grand Prix and the Equibreed NZ and VDL Top Ranking Mare.
Now we turn our attention to the FMG Young Rider Series. This was a very closely fought affair, battled out over 61 rounds. In the end, Emily Hayward from Cambridge was crowned the winner by just four points from Steffi Whittaker (Christchurch) in second. Karaka rider, Olivia Dalton filled third place, 33 points adrift of Whittaker. Dalton won just two rounds (each majors, scoring 20 points), however rode consistently, picking up points in a number of rounds.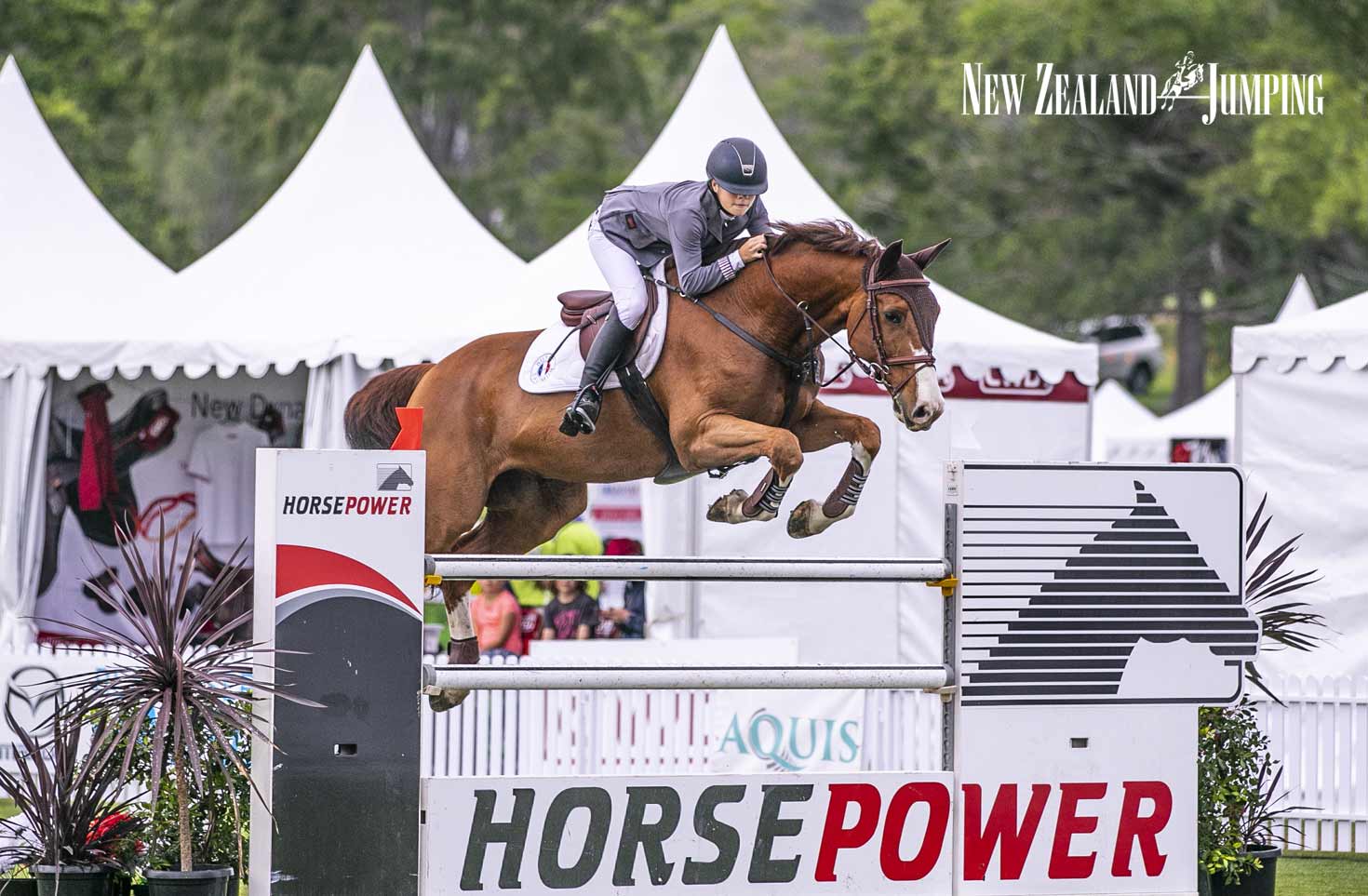 Olivia Dalton competing at the Aquis Champions Tour in Australia
For Hayward, this was the fourth year in a row that she has taken out this title, which is an unprecedented performance, however, it did not always look like this magnificent achievement was going to happen. For the first two months of the series it appeared as if Hayward stood no chance. After 25 rounds, Hayward was sitting on just 10 points, with four of her six appearances to that point, registering zeros. In contrast, Whittaker was on fire. By the same point in the competition she had amassed 69 points, also from just the six appearances. However, in mid-November the wheel started to turn slowly. Hayward started a run which saw her win six of the next 11 events she entered, (including four wins in major rounds, worth 20 points each), while Whittaker won just four more events, (including one major).
In the end, although Whittaker had totalled, 179 points from 16 rounds, only the best 12 rounds count towards the title and the 26 points dropped relegated her to second place.
Other notable performances include Blake Davis, who won five rounds, to finish seventh overall, Sarah West won four rounds to finish twelfth, as did Brayden Aarts, who won four of the ten events he entered, however he did not compete after mid-December, and faded to finish seventeenth overall. In total, 32 different riders won at least one round of the Series, which speaks volumes for the depth of talent with the ranks of New Zealand's Young Riders.
Winners of each event in the Series are listed below:
EVENT
DATE
WINNER
POINTS
Feilding IA&P Spring Show
15-16 Sep
Nicholas O'Leary
10
Nelson Area Show
15-16 Sep
Brayden Aarts
10
Rotorua SJ Spring Show
22-23 Sep
Tyla Hackett
10
Woodhill Sands
29-30 Sep
Elmo Jackson
10
SCNO Spring Show
29-30 Sep
Steffi Whittaker
10
Eastern Bay Showjumping
5-7 Oct
Tyla Hackett
10
Woodhill Sands
6-7 Oct
Laura Inkster
20
Central Districts
6-7 Oct
Sophie Scott
10
Southern Canterbury A&P
6-7 Oct
Makenzie Causer
10
Poverty Bay A&P
11-13 Oct
Sarah West
10
Equidays @ Mystery Creek
12-14 Oct
Steffi Whittaker
10
Ellesmere A&P @ Leeston
13-14 Oct
Maddison Thompson
10
Otago Area Jumping Show
13-14 Oct
Kate Beattie
10
Hawke's Bay A&P CSI-W
17-19 Oct
Drew Carson
20
Northland Area GP Show
20-21 Oct
Brayden Aarts
10
Wairarapa Area Showjumping
20-22 Oct
Olivia Dalton
20
Canterbury SJ Labour Weekend
21-22 Oct
Makenzie Causer
10
Ashburton A&P Association
26-27 Oct
Steffi Whittaker
10
Wairarapa A&P
26-28 Oct
Sophie Scott
10
Woodhill Sands
27-28 Oct
Elmo Jackson
10
Manawatu A&P @ Feilding
3-4 Nov
Sarah West
10
Marlborough Showjumping
3-4 Nov
Kaitlin Feast
10
Central Hawkes Bay A&P
8-10 Nov
Jenna-Lee Rose
10
Auckland Showjumping
9-11 Nov
Brayden Aarts
10
Wanganui A&P Show
10-11 Nov
Blake Davis
10
Canterbury A&P Show
14-16 Nov
Steffi Whittaker
10
Egmont A&P Show CSI-W
16-18 Nov
Emily Hayward
20
Woodhill Sands
17-18 Nov
Brayden Aarts
10
Wellington Horowhenua
24-25 Nov
Blake Davis
10
Feilding CSI-W
30 Nov-1 Dec
Emily Hayward

Nicola Hammond

Briar Burnett-Grant

17

17

17

National Young Horse Champs
7-9 Dec
Emily Hayward
10
Christmas Cracker
7-9 Dec
Grace O'Sullivan
20
Taupo CSI – Christmas Classic
13-16 Dec
Emily Hayward
20
Southland SJ Festival Show
15-16 Dec
Steffi Whittaker
10
Ashburton Area Champ. Show
22-23 Dec
Molly Buist-Brown
10
Central & Southern HB SJ
4-6 Jan
Emily Hayward
20
Woodhill Sands
5-6 Jan
Laura Hilhorst
10
Waitemata World Cup Festival
9-13 Jan
Annabel Francis
20
Otago Area
12-13 Jan
Makenzie Causer
10
Horowhenua AP&I
17-20 Jan
Blake Davis
10
Wairoa A&P
18-19 Jan
Sarah West
10
SCNO Area – SI Champs
19-20 Jan
Steffi Whittaker
20
Wairoa Jumping Show
20 Jan
Sarah West
10
Larsen's NI SJ Champs
25-27 Jan
Todd Magner
20
Taranaki Area Jumping show
25-27 Jan
Alyvia 'Libby' James
10
Dannevirke A&P
1-2 Feb
Blake Davis
10
National Showjumping Champs
1-3 Feb
Sophie Scott
20
Woodhill Sands
2-3 Feb
Leeshelle Small
10
Opotiki SJ & SH Show
2-3 Feb
Hannah Bodle
10
Taihape Area Show
8-10 Feb
Nicholas O'Leary
10
Brookby Showjumping
8-10 Feb
Oliver Croucher
10
Canterbury Championships
9-10 Feb
Steffi Whittaker
10
Masterton A&P Show
15-17 Feb
Blake Davis
10
Woodhill Sands
16-17 Feb
Ally Carson
10
Marlborough Showjumping
16-17 Feb
Steffi Whittaker
10
Feilding Showjumping
23-24 Feb
Bailey Rutter
10
Southland SJ – Circuit Show
23-24 Feb
Olivia Brown
10
Horse of the Year
12-17 Mar
Emily Hayward
20
Waitemata Showjumping
30-31 Mar
Emelia Forsyth
10
SCNO Autumn Festival
30-31 Mar
Molly Buist-Brown
10
Glistening Waters Series Final
5-7 Apr
Olivia Dalton
20
While there were 61 events in the series, only a maximum of 12 rounds counted towards the Series total. Only one rider, Steffi Whittaker, scored points in more than 12 rounds and therefore had to undergo a points adjustment.
The top 12 placings in the series were as follows:
PLACE
HORSE
TOTAL

POINTS

ROUNDS
POINTS

DROPPED

FINAL

POINTS

1st
Emily Hayward
157
17
0
157
2nd
Steffi Whittaker
179
16
26
153
3rd
Olivia Dalton
120
15
0
120
4th
Sophie Scott
107
15
0
107
5th
Nicola Hammond
101
15
0
101
6th
Makenzie Causer
94
11
0
94
7th
Blake Davis
90
18
0
90
8th
Elmo Jackson
89
19
0
89
9th
Olivia Brown
82
11
0
82
10th
Nicholas O'Leary
74
15
0
74
11th
Oliver Croucher
66
14
0
66
12th
Sarah West
64
16
0
64
New Zealand jumping congratulates Emily Hayward on winning the FMG Young Rider Series for the Fourth year in a row.
For a full listing of results from the series, please click HERE.
View Comments